Our Speakers
Mikhail Babenko, North-Caucasus Federal University, Stavropol, Russia

SPEECH: Privacy-Preserving Neural Networks with Homomorphic Encryption: Challenges and Opportunities

Igor Bychkov, Matrosov Institute for System Dynamics and Control Theory of the Siberian Branch of the Russian Academy of Sciences, Irkutsk, Russia

http://idstu.irk.ru/en/Bychkov_IV/

SPEECH: Digital transformation of forest monitoring in the Baikal natural territory

more...

Zeljko Stojanov, University of Novi Sad, Technical Faculty "Mihajlo Pupin" Zrenjanin

SPEECH: Software maintenance improvement in small software companies: Reflections on experiences

Igor Sheremet, Russian Foundation for Basic Research

SPEECH: Multiset-Based Assessment of Vulnerability of Energy Infrastructures to Destructive Impacts

Sergio Nesmachnow, Universidad de la República, Uruguay

https://www.fing.edu.uy/inco/grupos/cecal/hpc/pmwiki/pmwiki.php?n=Main.SergioNesmachnow

SPEECH: Demand response planning for the participation of datacenters in the electricity market

Andrei Tchernykh, CICESE Research Center, Ensenada, Mexico

http://usuario.cicese.mx/~chernykh/
International Program Committee
Program Committee Chair
Igor Bychkov, Matrosov Institute for System Dynamics and Control Theory of the Siberian Branch of the Russian Academy of Sciences, Irkutsk, Russia
Program Committee Co-Chair
Andrei Tchernykh, CICESE Research Center, Ensenada, Mexico
Program Committee Members
Mikhail Babenko, North-Caucasus Federal University, Stavropol, Russia
Vijay Kumar Chaurasiya, Indian Institute of Information Technology, Allahabad, India
Evgeniy Cherkashin, Matrosov Institute for System Dynamics and Control Theory of the Siberian Branch of the Russian Academy of Sciences, Irkutsk, Russia
Jorge Mario Cortés-Mendoza, Department of Computer Engineering, South Ural State University, Chelyabinsk, Russia
Dalibor Dobriloviс, University of Novi Sad, Technical Faculty "Mihajlo Pupin", Zrenjanin, Serbia
Denys Dutykh, CNRS/INSMI, University Savoie Mont Blanc, France
Alexei Edelev, Melentiev Energy Systems Institute of the Siberian Branch of the Russian Academy of Sciences, Irkutsk, Russia
Roman Fedorov, Matrosov Institute for System Dynamics and Control Theory of the Siberian Branch of the Russian Academy of Sciences, Irkutsk, Russia
Alexander Feoktistov, Matrosov Institute for System Dynamics and Control Theory of the Siberian Branch of the Russian Academy of Sciences, Irkutsk, Russia
Sergey Gorsky, Matrosov Institute for System Dynamics and Control Theory of the Siberian Branch of the Russian Academy of Sciences, Irkutsk, Russia
Xiwang Guo, Computer and Communication Engineering College, Liaoning Shihua University, Fushun, China
Muddesar Iqbal, Division of Computer Science and Informatics, London South Bank University, London, UK
Peng Jiang, Hangzhou Dianzi University, Hangzhou, China
Ljubica Kazi, University of Novi Sad, Technical faculty "Mihajlo Pupin", Zrenjanin, Serbia
Alexey Kovtunenko, Ufa State Aviation Technical University, Ufa, Russia
Alexander Legalov, HSE University, Moscow, Russia
Sergio Nesmachnow, Universidad de la República, Montevideo, Uruguay
Nam Hoai Nguyen, IES of the Vietnam Academy of Science and Technology, Hanoi, Vietnam
Alexey Shigarov, Matrosov Institute for System Dynamics and Control Theory of the Siberian Branch of the Russian Academy of Sciences, Irkutsk, Russia
Yurii Shokin, Institute of Computational Technologies of the Siberian Branch of the Russian Academy of Sciences, Novosibirsk, Russia
Ivan Sidorov, Matrosov Institute for System Dynamics and Control Theory of the Siberian Branch of the Russian Academy of Sciences, Irkutsk, Russia
Sergey Smagin, Computing Center of the Far Eastern Branch of the Russian Academy of Sciences, Khabarovsk, Russia
Zeljko Stojanov, University of Novi Sad, Technical faculty "Mihajlo Pupin", Zrenjanin, Serbia
Sergey Ul'yanov, Matrosov Institute for System Dynamics and Control Theory of the Siberian Branch of the Russian Academy of Sciences, Irkutsk, Russia
Xinheng (Henry) Wang, Department of Electrical and Electronic Engineering Xi'an Jiaotong-Liverpool University, Suzhou, China
Alexander Yurin, Matrosov Institute for System Dynamics and Control Theory of the Siberian Branch of the Russian Academy of Sciences, Irkutsk, Russia
Oleg Zaikin, Matrosov Institute for System Dynamics and Control Theory of the Siberian Branch of the Russian Academy of Sciences, Irkutsk, Russia
Organizing Committee
Organizing Committee Chair
Alexander Feoktistov, Matrosov Institute for System Dynamics and Control Theory of the Siberian Branch of the Russian Academy of Sciences, Irkutsk, Russia
Organizing Committee Members
Olga Basharina, Irkutsk State University, Irkutsk, Russia
Evgeniy Cherkashin, Matrosov Institute for System Dynamics and Control Theory of the Siberian Branch of the Russian Academy of Sciences, Irkutsk, Russia
Alexei Edelev, Melentiev Energy Systems Institute of the Siberian Branch of the Russian Academy of Sciences, Irkutsk, Russia
Evgeniy Fereferov, Matrosov Institute for System Dynamics and Control Theory of the Siberian Branch of the Russian Academy of Sciences, Irkutsk, Russia
Maksim Kenzin, Matrosov Institute for System Dynamics and Control Theory of the Siberian Branch of the Russian Academy of Sciences, Irkutsk, Russia
Galina Kononenko, Matrosov Institute for System Dynamics and Control Theory of the Siberian Branch of the Russian Academy of Sciences, Irkutsk, Russia
Roman Kostromin, Matrosov Institute for System Dynamics and Control Theory of the Siberian Branch of the Russian Academy of Sciences, Irkutsk, Russia
Organizing Committee Constacts
E-mail: agf65@yandex.ru
Topics
Information and telecommunication systems

Mathematical modeling of complex systems

Intelligent systems

Parallel and distributed computing systems
Important Dates
Start of report registrations and paper submissions: December 23, 2020
Deadline for Submission: May 17, 2021 June 20, 2021
Notification of Acceptance: June 14, 2021 June 27, 2021
Submission of Final Manuscripts: June 20, 2021 July 02, 2021
Workshop: July 5–9, 2021
Publication of the ICCS-DE 2021 Proceedings: July 12-30, 2021
Call for papers
Works are accepted in English.
A paper is registered and submitted through the EasyChair Conference System. A paper has at least 10 LNCS-equivalent pages. We assume that one LNCS-equivalent page contains about 2500 characters per page (=380-400 words per page).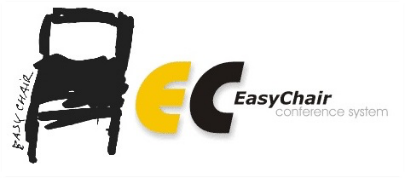 All papers in English must meet the IOP Conference Series format with the additional Copyright information. Authors must prepare their papers using Microsoft Word or LaTeX, according to the guidelines and templates, and then convert these files to PDF.
All papers submitted to the workshop will be reviewed by experts. All papers accepted to the workshop will be published in the proceedings. Proceedings of ICCS-DE 2021 will be submitted in CEUR-WS Proceedings.
At least one of the authors of the accepted report for ICCS-DE 2021 is required to present it during the workshop session according to the program that will be shared on the workshop site. The presentation slides should be prepared in English.
Special Issue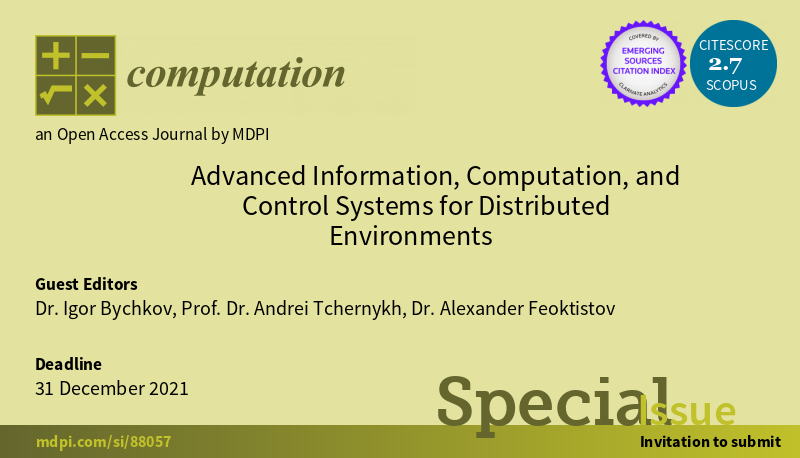 We are glad to inform you that, together with our partners, we are organizing a Special Issue "Advanced Information, Computation, and Control Systems for Distributed Environments" of the MDPI journal Computation.
Program Committee of ICCS-DE 2021 and Special Issue Editors kindly invite you to participate in this Special Issue and contribute to the development of the theory and practice of advanced information, computation, and control systems. In particular, we invite authors of papers presented at our workshops (ICCS-DE 2019-2021) to submit extended versions of their work to this Special Issue.
In this connection, we extend the paper submission deadline to June 20, 2021.
We also invite other researchers to directly present their original scientific and practical results in the aforementioned fields in this Special Issue.
Information about the manuscript submission for the Special Issue please find on the Special Issue page.
If you have any questions related to the Special Issue, feel free to contact me at agf65@yandex.ru.
registration fee
The workshop will be held remotely in virtual mode. Therefore, no registration fee is charged.
Workshop participants
Workshop Program
The schedule of events indicated Moscow time (GMT+3).
INSTRUCTIONS FOR PARTICIPATION
The virtual workshop session will take place on the Zoom platform. A link to connect to the virtual session will be sent to the workshop participants by e-mail.
You can upload your video and (or) presentation to any cloud storage (for example, dropmefiles.com) and send a link to the organizers to agf65@yandex.ru.
Proceedings
ICCS-DE 2021 Organizers
ICCS-DE 2021 Partners
Cultural program
Workshop participants can visit the following resources about Irkutsk and Lake Baikal:
PREVIOUS WORKSHOPS
Location and Venue
Matrosov Institute for System Dynamics and Control Theory of SB RAS
Russia, Irkutsk, 664033
Lermontov St. 134